LEANTEAM | founders of QRM
e-learning
Direct access to E-Learning?
Buy a license in our online shop!
Direct access to our E-Learning courses? Instant and easy access through our online store. Within a couple of minutes of payment, you will receive your personal log in credentials.
You have an account and want direct access to our E-Learning courses? You can directly log into your E-learning environment with the button below.
Welcome!
We believe that online learning plays an important part in the build-up of knowledge in QRM. It's a progressive and dynamic way of learning, which can no longer be ignored.
With the QRM E-Learning training you become thoroughly acquainted with QRM. The program consists of four courses:
It's about Time,
Organisational Structure,
System Dynamics,
The Company Wide Approach.
How does it work?
The courses consist of several modules, similar to chapters. Each module consists of a number of recordings; in which we go through all the material step by step. Each module ends with a series of questions or exercises. By doing this we test your knowledge of the curriculum.
When a sufficient score is reached on all questions and tasks across all modules, you will receive the "QRM Basic Course" certificate.
You are laying down the foundation for a flying start in the QRM Alpha Training, or even in starting a QRM process in your own environment.
Thanks to E-Learning, you can learn in the comfort of your own home, in your working environment and even on the go by logging in on your smartphone, tablet or laptop.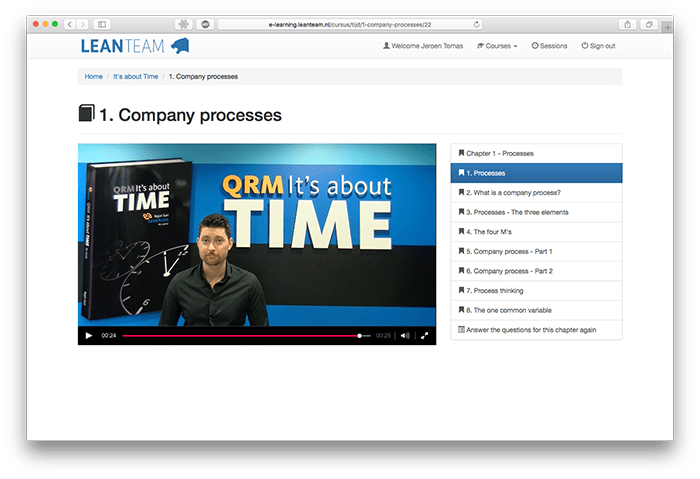 The start
When you log in for the first time you will start in the main menu (Home). To the left of your screen you will find the menu with your purchased courses.
When you click on the selected course, all the chapters (modules) will appear to the left of the screen.
The completion progress of the course and modules
Per module there are a number of recordings in which the material is explained. You can stop the video and you have the possibility to restart the recording at any time.
Allow time after each recording to reflect on the curriculum and take note on what you deem important. Then click on the next module part to go to the next recording. You do this until you finish the module.
The interruption of the course
When you interrupt the course, shut down or log in again later, you will be able to pick up where you left off. All history will be saved. So you can interrupt the course at any time. However, we recommend that you complete a module in its entirety.
Questions
In each block you will need to answer a number questions or exercises correctly, before you can go on to the next module. At least 80% of the questions will need to be answered correctly before you can proceed.
Be aware:
In some questions you will be asked to select one or morecorrect answers. Please read all the questions thoroughly before making your choice.
Please contact your LeanTeam contact for any questions or inquiries.
You will now start your journey to becoming a recognised QRM- specialist: laying down the first brick of your QRM- foundation.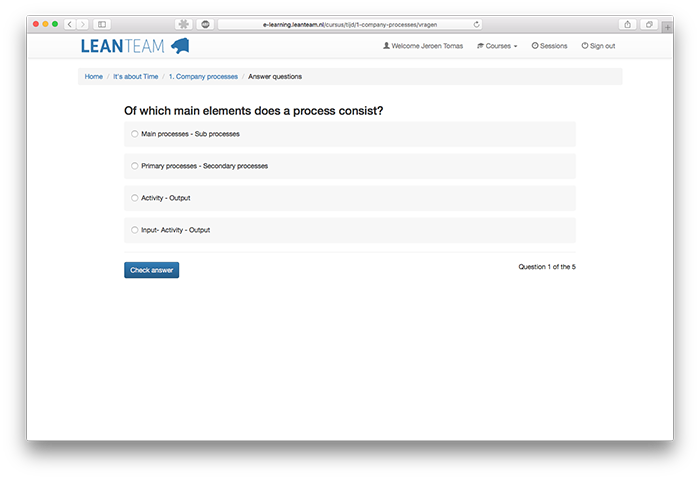 Try for yourself
In the two videos below, you will get an impression of how the E-learning modules look like. The complete course has been built up with these kind of short videos, combined with questions and tests.
Testimonial

About 15 years ago, Leanteam started applying Lean Manufacturing, particularly in production and assembly. This doubles the output. We recently started applying QRM to all business processes, with all employees involved. The result is that we can respond ultra fast, that we no longer have increasing delivery times and that the output will again double, something that was not conceivable in advance!
Ad Keeris – Director
Testimonial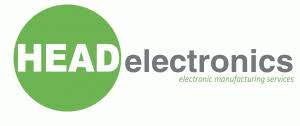 At Head Electronics we saw that  variations  increased (more customer-specific) and the volumes became smaller and smaller. This made manageability increasingly difficult. This led to long delivery times, a lot of work in progress, stress and loss of productivity. The hands-on guidance from Leanteam was very intense and has helped the company to regain control and generate 40% more output with the same people!
Willem Kok,  Director Head Electronics
Testimonial

Metalura is a fast growing company. The organization and processes are tightly aligned. It felt good to have long delivery times. Although …. long delivery times means a lot of work in progress, many projects that are being worked on simultaneously, loss of efficiency and above all (too) many hands on one order. Too many transfer moments ultimately lead to a lower First Time Right.
And then I met Hans Gerrese from Leanteam with the QRM philosophy. Together with Patricia van der Voort, he guides Metalura to get a better grip on our processes. This allows us to get our beautiful products to our customers even faster. And a lot more efficient.
Albert van de Breevaart – Director Melalura
Testimonial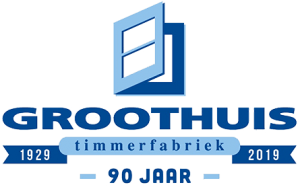 QRM came to us about 8 years ago. In the last phase of the crisis, we implemented QRM where small production badges, fewer stocks, more project-based purchasing, a tidy factory and working in cells reduced our production lead time by more than 25 days … After the end of the crisis, Groothuis ready for the growing market ..!
Hans Wesselink – Co Owner Groothuis Tifa 
Testimonial

Actemium Panel building Veghel is engaged in manufacturing all kinds of operating systems for the industry. The projects are very diverse in size. From a few pieces to large numbers of small control boxes to large standing control systems, sometimes up to 6 meters long. Our problem was simple, we had too little room to manage growth, and the solution was just as simple. Halving the project lead time and we could produce double in the same workshop.
Leanteam helped us to put this into practice with the implementation of QRM, which fits in perfectly with the project organization that we have. It is important that all our employees are included in this process, which greatly increased support. The result exceeded our expectations. Faster turnaround time, flexible self-managing teams, a tidy workplace and everything seems to be a matter of course.
Huuk Mandos – Director Actemium